Built to the designs of Robert Smirke in 1819-21, this is one of the last surviving 'Waterloo' churches.
The church was reordered and a short chancel added in 1863 to a design by GM Hills; the present vestries were added in 1905. The church stands on the west side of Railway Road near the centre of Chatham, but is cut off from the town centre by the one way system.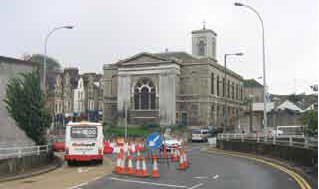 St John the Divine, Chatham - in the centre of the one-way system.
Possibly for sale in 2003, but now seemingly to be
used for community purposes.
Can anyone please confirm?
Consists of chancel, north and south vestries, nave with north and south galleries, west entrance flanked by stair halls and west tower. It is listed Grade II*.